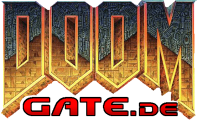 MAP-Namen und Autoren
(
Grafische Darstellungen der Maps in verschiedenen Auflösungen und Formaten finden sich übrigens hier.)
DOOM
Episode 1: KNEE-DEEP IN THE DEAD (*)
Map
Name
Author
ScreenShot
E1M1
Hangar
John Romero
E1M2
Nuclear Plant
John Romero
E1M3
Toxin Refinery
John Romero
E1M4
Command Control
Sandy Petersen
E1M5
Phobos Lab
John Romero
E1M6
Central Processing
John Romero
E1M7
Computer Station
John Romero
E1M8
Phobos Anomaly
Sandy Petersen
E1M9
Military Base
John Romero

Episode 2: THE SHORES OF HELL
Map
Name
Author
ScreenShot
E2M1
Deimos Anomaly
Sandy Petersen
E2M2
Containment Area
Sandy Petersen
E2M3
Refinery
Sandy Petersen
E2M4
Deimos Lab
Sandy Petersen
E2M5
Command Center
Sandy Petersen
E2M6
Halls of the Damned
Sandy Petersen
E2M7
Spawning Vats
Sandy Petersen
E2M8
Tower of Babel
Sandy Petersen
E2M9
Fortress of Mystery
Sandy Petersen

Episode 3:INFERNO
Map
Name
Author
ScreenShot
E3M1
Hell Keep
Sandy Petersen
E3M2
Slough of Despair
Sandy Petersen
E3M3
Pandemonium
Sandy Petersen
E3M4
House of Pain
Sandy Petersen
E3M5
Unholy Cathedral
Sandy Petersen
E3M6
Mt. Erebus
Sandy Petersen
E3M7
Limbo
Sandy Petersen
E3M8
Dis
Sandy Petersen
E3M9
Warrens
Sandy Petersen

(*) Aus dieser Episode besteht auch die DooM- Sharewareversion
Ultimate DooM (=DOOM Episode 1-3 plus:)
Episode 4: THY FLESH CONSUMED
Map
Name
Author
ScreenShot
E4M1
Hell Beneath
American McGee
E4M2
Perfect Hatred
John Romero
E4M3
Sever The Wicked
Shawn Green
E4M4
Unruly Evil
American McGee
E4M5
They Will Repent
Tim Willits
E4M6
Against Thee Wickedly
John Romero
E4M7
And Hell Followed
John Anderson
E4M8
Unto The Cruel
Shawn Green
E4M9
Fear (secret level)
Tim Willits
DOOM 2 - HELL ON EARTH
| | | | |
| --- | --- | --- | --- |
| Map | Name | Author | ScreenShot |
| MAP01 | Entryway | Sandy Petersen | |
| MAP02 | Underhalls | American McGee | |
| MAP03 | The Gauntlet | American McGee | |
| MAP04 | The Focus | American McGee | |
| MAP05 | The Waste Tunnels | American McGee | |
| MAP06 | The Crusher | American McGee | |
| MAP07 | Dead Simple | American McGee | |
| MAP08 | Tricks and Traps | Sandy Petersen | |
| MAP09 | The Pit | Sandy Petersen | |
| MAP10 | Refueling Base | Sandy Petersen | |
| MAP11 | 'O' of Destruction! | John Romero | |
| MAP12 | The Factory | Sandy Petersen | |
| MAP13 | Downtown | Sandy Petersen | |
| MAP14 | The Inmost Dens | American McGee | |
| MAP15 | Industrial Zone | John Romero | |
| MAP16 | Suburbs | Sandy Petersen | |

| | | | |
| --- | --- | --- | --- |
| Map | Name | Author | ScreenShot |
| MAP17 | Tenements | John Romero | |
| MAP18 | The Courtyard | Sandy Petersen | |
| MAP19 | The Citadel | Sandy Petersen | |
| MAP20 | Gotcha! | John Romero | |
| MAP21 | Nirvana | Sandy Petersen | |
| MAP22 | The Catacombs | American McGee | |
| MAP23 | Barrels O' Fun | Sandy Petersen | |
| MAP24 | The Chasm | Sandy Petersen | |
| MAP25 | Bloodfalls | Sandy Petersen | |
| MAP26 | The Abandoned Mines | John Romero | |
| MAP27 | Monster Condo | Sandy Petersen | |
| MAP28 | The Spirit World | Sandy Petersen | |
| MAP29 | The Living End | John Romero | |
| MAP30 | Icon of Sin | Sandy Petersen | |
| MAP31 | Wolfenstein | Sandy Petersen | |
| MAP32 | Grosse | Sandy Petersen | |
FINAL DOOM - TNT:EVILUTION
| | | | |
| --- | --- | --- | --- |
| MAP | Name | Author (Team TNT) | ScreenShot |
| MAP01 | SYSTEM CONTROL | Tom Mustaine | |
| MAP02 | HUMAN BBQ | John Wakelin | |
| MAP03 | POWER CONTROL | Robin Patenall and John Minadeo | |
| MAP04 | WORMHOLE | Ty Halderman | |
| MAP05 | HANGER | Jim Dethlefsen | |
| MAP06 | OPEN SEASON | Jimmy Sieben and Ty Halderman | |
| MAP07 | PRISON | Andrew Dowswell | |
| MAP08 | METAL | John Minadeo | |
| MAP09 | STRONGHOLD | Jimmy Sieben and Ty Halderman | |
| MAP10 | REDEMPTION | Tom Mustaine | |
| MAP11 | STORAGE FACILITY | Dean Johnson | |
| MAP12 | CRATER | Jim Lowell | |
| MAP13 | NUKAGE PROCESSING | Brian Kidby and Ty Halderman | |
| MAP14 | STEEL WORKS | Robin Patenall | |
| MAP15 | DEAD ZONE | William Whitaker | |
| MAP16 | DEEPEST REACHES | Andre Arsenault | |

| | | | |
| --- | --- | --- | --- |
| MAP | Name | Author (Team TNT) | ScreenShot |
| MAP17 | PROCESSING AREA | Tom Mustaine | |
| MAP18 | MILL | Dario Casali and Ty Halderman | |
| MAP19 | SHIPPING/RESPAWNING | Ty Halderman | |
| MAP20 | CENTRAL PROCESSING | Drake O'Brien | |
| MAP21 | ADMINISTRATION CENTER | Drake O'Brien | |
| MAP22 | HABITAT | Christopher Buteau | |
| MAP23 | LUNAR MINING PROJECT | Paul Turnbull | |
| MAP24 | QUARRY | Dean Johnson | |
| MAP25 | BARON'S DEN | David "Mentzer" Hill | |
| MAP26 | BALLISTYX | Mark Snell and Jim Lowell | |
| MAP27 | MOUNT PAIN | Drake O'Brien | |
| MAP28 | HECK | Milo Casali | |
| MAP29 | RIVER STYX | Jimmy Sieben | |
| MAP30 | LAST CALL | Jimmy Sieben | |
| MAP31 | PHARAOH | Dario and Milo Casali | |
| MAP32 | CARIBBEAN | Dario and Milo Casali | |
FINAL DOOM - THE PLUTONIA EXPERIMENT
| | | | |
| --- | --- | --- | --- |
| MAP | Name | Author (Team TNT) | ScreenShot |
| MAP01 | CONGO | Dario und Milo Casali | |
| MAP02 | WELL OF SOULS | Dario und Milo Casali | |
| MAP03 | AZTEC | Dario und Milo Casali | |
| MAP04 | CAGED | Dario und Milo Casali | |
| MAP05 | GHOST TOWN | Dario und Milo Casali | |
| MAP06 | BARON'S LAIR | Dario und Milo Casali | |
| MAP07 | CAUGHTYARD | Dario und Milo Casali | |
| MAP08 | REALM | Dario und Milo Casali | |
| MAP09 | ABATTOIRE | Dario und Milo Casali | |
| MAP10 | ONSLAUGHT | Dario und Milo Casali | |
| MAP11 | HUNTED | Dario und Milo Casali | |
| MAP12 | SPEED | Dario und Milo Casali | |
| MAP13 | THE CRYPT | Dario und Milo Casali | |
| MAP14 | GENESIS | Dario und Milo Casali | |
| MAP15 | THE TWILIGHT | Dario und Milo Casali | |
| MAP16 | THE OMEN | Dario und Milo Casali | |

| | | | |
| --- | --- | --- | --- |
| MAP | Name | Author (Team TNT) | ScreenShot |
| MAP17 | COMPOUND | Dario und Milo Casali | |
| MAP18 | NEUROSPHERE | Dario und Milo Casali | |
| MAP19 | NME | Dario und Milo Casali | |
| MAP20 | THE DEATH DOMAIN | Dario und Milo Casali | |
| MAP21 | SLAYER | Dario und Milo Casali | |
| MAP22 | IMPOSSIBLE MISSION | Dario und Milo Casali | |
| MAP23 | TOMBSTONE | Dario und Milo Casali | |
| MAP24 | THE FINAL FRONTIER | Dario und Milo Casali | |
| MAP25 | THE TEMPLE OF DARKNESS | Dario und Milo Casali | |
| MAP26 | BUNKER | Dario und Milo Casali | |
| MAP27 | ANTI-CHRIST | Dario und Milo Casali | |
| MAP28 | THE SEWERS | Dario und Milo Casali | |
| MAP29 | ODYSSEY OF NOISES | Dario und Milo Casali | |
| MAP30 | THE GATEWAY OF HELL | Dario und Milo Casali | |
| MAP31 | CYBERDEN | Dario und Milo Casali | |
| MAP32 | GO 2 IT | Dario und Milo Casali | |
Masterlevels
Die 21 Maps der Masterlevels sind unverständlicherweise (bis auf eine Ausnahme) als Ansammlung einzelner WADs vertrieben worden. Leider gibt es bei den Map-Nummern Überschneidungen, sodass man nicht alle Masterlevels zugleich laden kann. Die folgende Übersicht zeigt neben den Map-Namen und den Authoren auch die jeweilige MAP-Nummer an.
Dateiname
Map-Name
Author
Map-Nummer
ScreenShot
attack.wad
Attack
Tim Willits
Map01
blacktwr.wad
Black Tower
Sverre Kvernmo
Map25
bloodsea.wad
Bloodsea Keep
Sverre Kvernmo
Map07
canyon.wad
Canyon
Tim Willits
Map01
catwalk.wad
The Catwalk
Christen David Klie
Map01
combine.wad
The Combine
Christen David Klie
Map01
fistula.wad
The Fistula
Christen David Klie
Map01
garrison.wad
The Garrison
Christen David Klie
Map01
geryon.wad
Geryon: 6th Canto of INFERNO
John W. Anderson
Map08
manor.wad
Titan Manor
Jim Flynn
Map01
mephisto.wad
Mephisto's Maosoleum
Sverre Kvernmo
Map07
minos.wad
Minos' Judgement: 4th Canto of INFERNO
John W. Anderson
Map05
nessus.wad
Nessus: 5th Canto of INFERNO
John W. Anderson
Map07
paradox.wad
Paradox
Tom Mustaine
Map01
subspace.wad
Subspace
Christen David Klie
Map01
subterra.wad
Subterra
Christen David Klie
Map01
teeth.wad
The Express Elevator To Hell
Sverre Kvernmo
Map31-32
ttrap.wad
Trapped On Titan
Jim Flynn
Map01
vesperas.wad
Vesperas: 7th Canto of INFERNO
John W. Anderson
Map09
virgil.wad
Virgil's Lead: 3rd Canto of INFERNO
John W. Anderson
Map03
John W. Anderson ist auch als 'Dr.Sleep' bekannt.
Sverre (Andre) Kvernmo ist auch als 'Cranium' bekannt.
Aus welchem Grund die Masterlevels nicht in einer großen gemeinsamen PWAD zusammengefasst wurden, sodass sie der Reihe nach kontinuierlich gespielt werden können, bleibt unverständlich. Ich habe genau das mit meinem Exemplar der Masterlevels getan und es war gar nicht so schwierig. Wer wissen möchte, wie das geht, kann entweder per Mail nachfragen, oder auch ins 'GäFoBloMi' schreiben.
Extra-Levels der Xbox-Collector's Edition
Map
Name
Author
ScreenShot
MAP01
Betray
Michael Bukowski
E3M1
Sewers
David Calvin & David Blanshine

Die DooM-Collector's Edition für die Xbox enthält neben DooM3 auch die Klassiker Ultimate DooM und DooM2. Und für eben diese sind zwei Extra-Levels enthalten, die in keiner Auflistung aller offiziellen Levels fehlen dürfen. Die Levels selbst sind schon sehr alt (1994/1995) und nicht unbedingt von allerhöchster Qualität, aber da sie 2005 mit der Collectors-Edition veröffentlicht wurden, sollten Sie in keiner Aufzählung fehlen. Wer die Levels ausprobieren möchte, kann sie hier herunterladen.(Ein dickes Dankeschön geht wieder einmal an Led und seine hervorragende http://classicdoom.com - Seite, von der ich diese Datei entliehen habe.)